I wrote in the article about Wiegmann's years in Hof a.d. Saale (in German,LINK):
Survival  –  In February 1945, Fritz Wiegmann was transferred from Berlin to Hof an der Saale in Upper Franconia for the purpose of a gallstone operation and was overtaken there by American troops in April 1945. The population of the city on the border to the Egerland swelled at times to 55,200 inhabitants due to refugees and displaced persons. At that time he also spoke to Stauffenberg's widow several times, already behind American lines in the home of a family friend. Explosives for the assassination of Hitler had been supplied by the Secret Service and should have formed a crater. But the barracks had been dug in. v.Trott was the 'head' of the opposition; his request in England for an armistice was answered in the negative: unconditional surrender! (Personal communication in the late 1960s.) Then the Iron Curtain put the region in an extreme peripheral position, cutting it off from the formerly neighboring Bohemia, Vogtland and Thuringia. The borders passed only a few kilometers from the town. For a cosmopolitan free spirit and big city dweller like Fritz, the place with its traditionally pronounced local pride was the most unsuitable cornerWhile he was for a short time prisoner of war, American officers and soldiers became aware of the portrait painter Wiegmann. In the Frankfurt City Archives are four reproductions and sixteen personal letters of thanks of American soldiers, often with home addresses. Wiegmann's first home, three miles south of Hof, in Oberkotzau, is mentioned there. If we ask what Wiegmann lived on then, his contacts with the American garrison is certainly part of the answer.  (…….)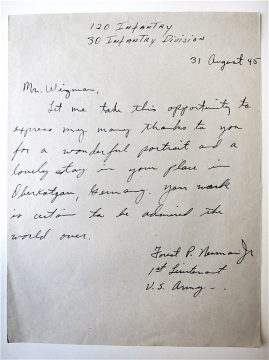 Cameron Quade contacts me on August 14, 2021

"…. You find attached the image of the portrait, a man named Leroy Schauder, a 1st Lieutenant and WWII medic in the US Army. You can see Wiegmann's signature incised into the paint surface just above his proper right shoulder – it looks like he signed it using the end of his brush. It was brought to the gallery for appraisal by one of his descendants. If you happen to have an image from the archives or a letter from Schauder to Wiegmann I would be glad to see it! Thank you and all the best,…"
On August 20, I was able to report the find to the "Institut für Stadtgeschichte Frankfurt am Main": "Among the 16 letters of thanks from Americans I found Schauder's undated letter and could take a photo of the undated paper. All the best…"
ANNEX:  LETTERS OF LEROY FROM FEILITZSCH, GERMANY, JULY 1945
FROM:   Letters from World War II. Glenn Schauder, Leroy Schauder, Frank Schauder – 120pp. Published 2017, The Write Type . Reno, Nevada – Edited by Candy (Schauder) Kiel – Copyright with the family.
pp.77/78.  –  12 July 1945 – Feilitzsch, Germany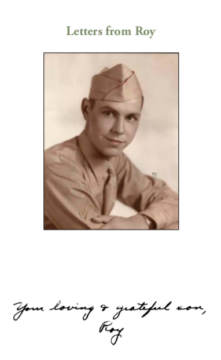 Feilitzsch is a municipality in the Upper Franconian district of Hof and the seat of the administrative community Feilitzsch. The community in the Bavarian Vogtland is about four miles north of the city of Hof on the A 72 and A 93 motorways. Since Schauder was transferred again at the beginning of August, one can assume that Wiegmann portrayed him that month. I am printing the photo introductory to the publication on the left for comparison.
Dear Mom & Dad,
Guess I'd better write a short note and give you my new address. I was transferred quite suddenly yesterday, and consider it a good break. This outfit is made up of all *high point men, eligible for return to the states & is scheduled to leave for the states in Dec. That is a long time yet, but it certainly is a step in the right direction for me. We live like kings here in a German Baron's home, which I can only describe as being "out of this world." Just now I finished a little chat with the Countess**. Some stuff, eh? It's a coincidence, but about four months ago, my old Bn. fought for this place & our CP was in the very building where I am at present. I have a huge room, double exposure & sun porch. Two maids clean up the place for me & I am rapidly becoming a lazy man in such elegant surroundings. Looks like I might have gotten a break after all, doesn't it?
Guess my mail will be screwed up for awhile now, but I'll keep you posted on what goes on with Roy. I have a slight head cold from doing so much riding around lately, but otherwise the old morale has really been boosted. At least now, I have something a little more definite to look forward to. Am with a grand bunch of officers & men, but I sure felt bad to have to leave the old gang after going thru so much with them. But, I guess it is all for the better. By now.
Your loving son, Roy
* The US Army used a point system at the end of World War II in Europe to determine which soldiers were eligible to be repatriated to the United States for discharge from military service. In general, "those who had fought longest and hardest should be returned home for discharge first." (Ed.)

**** LINK Feilitzsch – Aristocratic family, Feilitzsch – baroque palace (family-owned to this day)

pp.78/79.  –  20 July 1945 – Feilitzsch, Germany
Dear Mom & Dad:
Hello, good people. I trust you are both in best of health, and that business is proceeding at
its usual good pace. How 'bout it? Report. I'm feeling fine, and outside of my transfer screwing up my mail, things are going very smoothly for me. I lead an extremely lazy life, getting more than enough sleep, doing very little work, and living like a king. I have my room fixed up nice, and managed to get a new radio, so I can hear all the latest news, and the best programs from the states. The Japs are sure catching hell now, and I'm glad to hear it. I hope the piece of camouflage silk reaches you alright. I'm having a couple pair of pajamas, and sheets for my bed made from it. Pretty ritzy, I'd say. Now that we can speak to German civilians, I'm trying to improve my "Sprache," but I guess I'll never get as good as you at it, Dad. But I get along with what I know. I hope I never have to learn Japanese.
I met a German girl (strictly business) the other day, whose home is in Milwaukee, Wisconsin. She spoke very good English and had come over here six years ago, but since the war started, she couldn't get back. Boy, was she homely tho! She oughta stay over here. Her name was Scheider. Strange things happen, don't they?
I can't tell you how badly I want to get home, and away from all of this crap over here. The people are in sad shape, with thousands of them wandering the roads, tired, dirty, hungry & homeless. Perhaps it serves them right for all the misery they caused others. I have verylittle sympathy for them, myself, although I can understand how people back home might be sympathetic, because they haven't seen what the Germans had done to other countries and the people. To hell with them, and I mean it. I'd better stop or I might start swearing. See you in '46. Until then, my prayers are with you, my two swell brothers & my wonderful wife & daughter.
Your loving son – Wee Woy – What a name!